W. F. Magann Corporation was founded in Portsmouth, Virginia in the summer of 1945 by Wilfred F. "Mac" Magann, a World War II veteran and Navy frogsman. From humble beginnings in a pick-up truck, W.F. Magann Corporation has since grown over 75 years through three generations of Magann ownership into a diversified general contractor in the heavy industrial, marine, and concrete construction industries.
Although Hampton Roads continues to be our base of operations, construction for public and private sector clients has expanded to the Middle Atlantic and Southeastern states – and has sent us as far south as Puerto Rico.
Our proven ability to combine industrial capabilities with extensive heavy and marine construction services, has allowed us to respond to a wide range of bid-build and design-build construction projects as a turnkey contractor. We have completed a variety of projects through the years, ranging from small repair jobs to multi-million dollar new construction.  Our bond capacity enables us to perform work up to $200,000,000.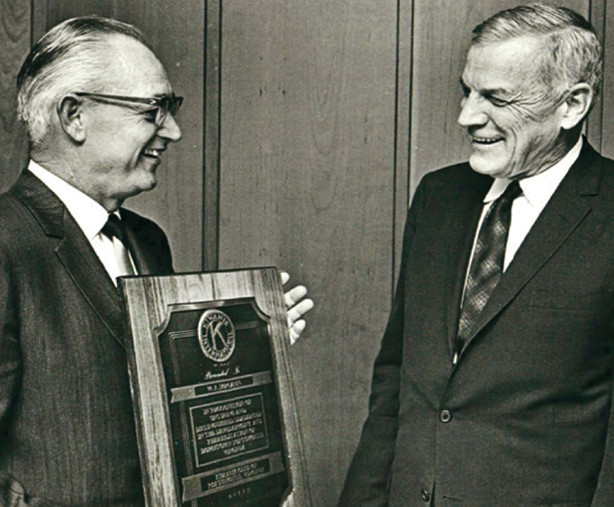 Mac Magann (left) receives First Citizen congratulations from Porty Hardy Jr. (right),
US Representative from Virginia.